Designed to grow your business.
A brilliant future for digital print production.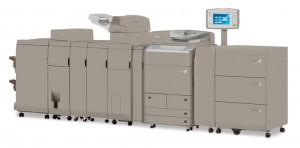 An outstanding investment
To win in today's marketplace requires the ability to grow your revenue and improve your profitability. Success demands standout performance, stellar productivity, and absolute versatility. Introducing the imageRUNNER ADVANCE 8205/8285/8295 systems—you never imagined your return on investment could be this good.
A revolutionary approach
With a dramatically new platform, the Canon imageRUNNER ADVANCE 8205/8295/8285 systems will transform the way you work. Designed to satisfy the specific needs of corporate in-house print facilities, commercial on-demand print centers, and design agencies, these digital printing systems provide outstanding value in every way.
Delight your customers
Exceptional image quality. An extensive choice of media. Multiple finishing options. Designed as light production CRD solutions with blazing speed, intuitive operation, and unparalleled reliability, the Canon imageRUNNER ADVANCE 8200 Series delivers the outstanding output that high volume offices, in-plant reprographic facilities and print-for-pay businesses require. From brochures to mailers to catalogs, your output will make a striking impression. And in return you'll have increased opportunities to grow your business.
Reliable productivity
Your operation will keep humming with these imageRUNNER ADVANCE systems. Exceptional processing speeds keep work moving at a rapid pace. Automated features minimize downtime and maximize productivity. And with Canon's recognized reliability, you can count on virtually nonstop operation.
Workflow simplified
From start to finish, the imageRUNNER ADVANCE 8205/8285/8295 systems streamline every part of your production process. With powerful tools and centralized control, operators can smoothly monitor jobs from prepress to finishing. Complicated or repeated tasks can be performed with the touch of a single button.
More of everything in much less space
Now, light production environments can enjoy the powerful functionality previously reserved for large production facilities—all within a design that saves space and energy. With Canon's imageRUNNER ADVANCE 8205/8285/8295 systems you'll have the resources to advance your business— now and in the future.