Robust productivity. Easy operation. Amazing versatility.
A really smart growth strategy.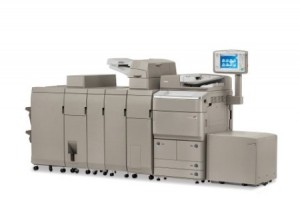 Positioned for success
Designed for today's competitive business environment,
the imageRUNNER ADVANCE 8105/8095/8085 systems can increase your revenue and improve your profitability. With blazing speed and outstanding performance, these digital monochrome models will unleash the powerful productivity you require. And keeping the future in mind, Canon offers an impressive range of modular features to meet your growing needs.
A revolutionary approach
These multifunction systems will transform the way you work. With a dramatically new platform, the Canon imageRUNNER ADVANCE 8105/8095/8085 models deliver the robust functionality and ease of use that are vital to high-volume offices, in-plant and central reprographic facilities, and print-for-pay operations.
World-class efficiency
Now you can comfortably meet tight deadlines and demanding quantities without pressure. Exceptional processing speeds keep your work moving at a rapid pace. Automated features minimize downtime and maximize productivity. And with Canon's recognized reliability, you can count on virtually nonstop operation.
Striking results
Meet today's demanding business needs with exceptional quality time after time. Thanks to Canon's new technologies, you'll produce reports, booklets, newsletters, and contracts, all with clear text, sharp images, and smooth halftones on a range of media. And with an extensive array of in-line finishing options, you'll deliver professional results that are sure to impress.
Workflow simplified
From start to finish, the imageRUNNER ADVANCE 8105/ 8095/8085 systems streamline every part of your production process. Powerful tools and centralized control let operators smoothly monitor jobs from prepress to finishing. And complicated or repeated tasks can be performed with the touch of a single button.
Less is considerably more
Now with a reduced footprint and the convenience
of 120V power requirement, these high-volume, high- productivity black-and-white models are ideal for large businesses, sizable workgroups within an enterprise, or print service providers with space constraints. The Canon imageRUNNER ADVANCE 8105/8095/8085 systems deliver the next-generation technologies, integrated solutions, and advanced capabilities that will make your growth strategy a profitable reality.